HOME TECHNICAL INFORMATION PERFORMANCE PARTS
Y-BLOCK ENGINE KITS
DELUXE ENGINE KIT, FORGED ENGINE KIT, MASTER ENGINE KIT
PRICES DO NOT INCLUDE SHIPPING
DELUXE ENGINE KIT
Cast pistons, Moly rings, rod bearings, main bearings, cam bearings, new oil pump, new lifters, timing set, brass freeze plugs, block dowels, woodruff keys, gasket set, oil pump drive shaft
Pistons up to .060" O.S PRICE SHEET
PART # DEK-272 272 DELUXE ENGINE KIT .030, .040, .060"
PART # DEK-292 292 DELUXE ENGINE KIT std, .030", .040" .060"
PART # DEK-312 312 DELUXE ENGINE KIT std, .030, .040, .060"
FORGED ENGINE KIT
FORGED PISTONS, Moly rings, rod bearings, main bearings, cam bearings, new oil pump, new lifters, timing set, brass freeze plugs, block dowels, woodruff keys, gasket set, oil pump drive shaft
Forged Piston Rebuild Kit 3.750" 3.780" 3.800" 3.830" 3.840" bore sizes
PART # EK-FP-292 292 Block
PART # EK-FP-312 312 Block PRICE SHEET
MASTER ENGINE REBUILD KIT
CAST PISTONS, MOLY RINGS, ROD BEARINGS, MAIN BEARINGS, CAM BEARINGS, NEW OIL PUMP, NEW LIFTERS, NEW CAMSHAFT, TIMING SET, BRASS FREEZE PLUGS, ROCKER SHAFTS, ROCKER ARMS, WRIST PIN BUSHINGS, BLOCK DOWELS, WOODRUFF KEYS, GASKET SET, OIL PUMP DRIVE SHAFT.
PART # MEK-272 272 BLOCK
PART # MEK-292 292 BLOCK PRICE SHEET
PART # MEK-312 312 BLOCK
ADDITIONAL PARTS FOR YOUR ENGINE JOB:
CAMS AND VALVE TRAIN
SMALL ENGINE PARTS
ARP HARDWARE
INTAKE MANIFOLD
ALUMINUM PARTS
EXTERNAL ACCESSORIES
DRIVE TRAIN
# RTS-6260 True Roller timing set. 9 way indexable
Neoprene valve cover gaskets. Die cut from sheet neoprene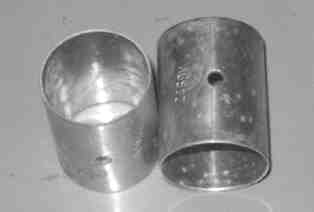 # 1834V Wrist pin bushings, all years.... set of 8...
HIGH RATIO REPLACEMENT ROCKERS Complete assemblies Call for price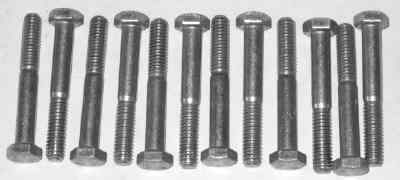 Includes bolts, washers, nuts
GRADE 8 ROCKER ARM BOLT KIT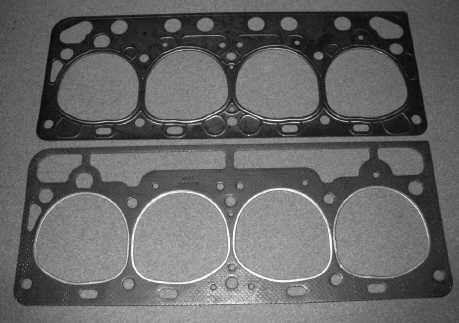 NEW DESIGN Y-BLOCK HEAD GASKET SHOWN AT BOTTOM OF PHOTO.
REDUCED CLAMPING AREA AROUND PUSHRODS. HIGH QUALITY MATERIAL
NOW INCLUDED IN FULL GASKET SETS or AVAILABLE SEPARATELY
BIG BORE NEW DESIGN HEAD GASKETS. Up to 3.937"
RS-572-G Full set Best Gasket, with 272-292 rear seal.
RS-572-G2 Full set, Best Gasket, with 312 teflon rope seal PRICE SHEET
3788W 239-256-272-292 neoprene rear seal
3A52 312 rubber rear seal only
T
IMING SETS
RTS-6260 True roller timing set, billet steel gears
TS-3031 3 piece sylent link belt. Stock replacement
OIL PUMPS and DRIVES
M-42 1955-1964 hex drive
IS-42 Hex intermediate shaft PRICE SHEET
154-7906 Heavy Duty ARP intermediate shaft
CRANKSHAFT DAMPERS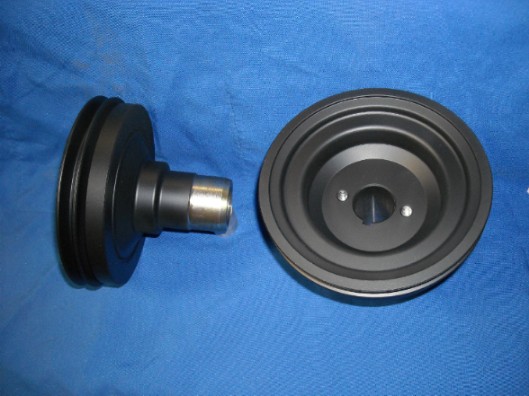 PART # CD-1199
NEW! BILLET STEEL CRANKSHAFT DAMPER.
REPLACES 57-62 CAR and 56-64 PICK-UP. 3/8" BELT GROOVE ONLY.
WILL FIT 55-56 CARS IF NARROW BELT IS USED!!!!!
DOES NOT FIT THUNDERBIRD.
Damper repair sleeves, seal area.............… PRICE SHEET
ROCKER ARM PARTS

RS-1021 REPLACEMENT SHAFTS SOLD IN PAIRS
RS-1021HD PERFORMANCE ROCKER SHAFTS, slotted oil holes..... Pair
ROCKER ASSEMBLY KIT:
RAA-KIT 8 Flat Washers. 4 wave washers, 4 cotter pins, 6 new separator springs:
RAS-BIL BILLET ROCKER STANDS. Reversible Std height or +.050" set of 8
PUSHRODS. Long fit 54-55 heads and 60-64, Short fit 56-59 heads.

PR-1221 Tubular replacement..1954-55 & 60-64 Set of 16..... 8.300" overall length
PR-1223 Tubular replacement...1956-59 heads Set of 16..... 8.120" overall length
PR-1221 Tubular for Y-6090A Aluminum heads Set of 16..... 8.300" overall length
CAMSHAFTS PRICE SHEET
Stock replacement C4TZ-6250A. 246° advertised duration 192 @ .050" lift .375" lift .....
FOR PERFORMANCE CAMS SEE " VALVETRAIN " LISTING
COMMONLY STOCKED PERFORMANCE CAMS
Valves, stock replacement For Performance Cams, springs & valves "VALVETRAIN "
Set (8) 1.64, 1.78 or 1.92" intake and (8) 1.51" exhaust
Lifters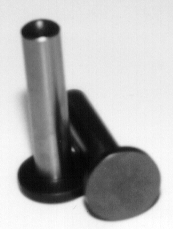 #VL-21 New hardenable iron, outright price, no cam purchase
NEW PERFORMANCE CAM AND LIFTERS PRICE SHEET
MISCELLANEOUS PARTS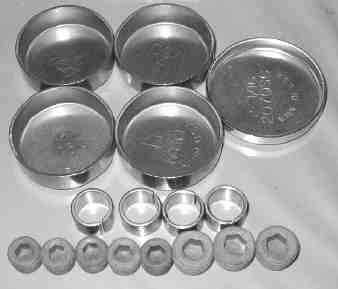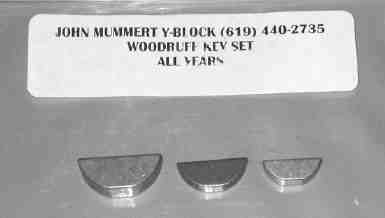 # SPK Engine plug kit. Brass freeze plugs, cam plug, block dowels, oil galley plugs, woodruff keys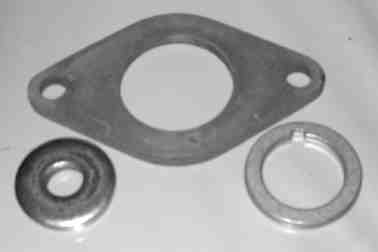 PRICE SHEET
Camshaft thrust plate, new............................................
Camshaft Washer, new…………...….......................….. for timing gear bolt
Camshaft spacer, new ......………...…........................... replaces eccentric weight
<![if !vml]>

<![endif]>
Replacement rod bolts with nuts, EBU......................... set
Performance parts. Click to view A.R.P. hardware
154-6004 ARP rod bolts ECZ,C1TE,C2AE rods
154-6005 ARP rod bolts for EBU rods only
Performance rod bolts EBU rods…...….............
154-HSK ARP head stud kit PRICE SHEET
154-HBK ARP head bolt kit
154-MSK ARP Main stud kit 10 studs, nuts & washers*. SPECIFY 312.
154-MBK ARP Main bolt kit. 10 bolts and washers* SPECIFY 312
*Requires drilling and tapping of main cap bolt holes in any block made before April 1959 ( any block with casting number beginning with "E").