HOME C-4 in Cars T-Bird T-5 in TRUCKS C-4 in TRUCKS
T-5 INSTALLATION IN CARS or T-BIRD
Use 1954-62* passenger car stick bellhousing. (3-speed manual)

Will work with 215-223 6 cylinder engines in 52-64 cars

Rancheros are not trucks.

The shifter will be ahead of the front edge of the seat.

Shifter will be approximately 2" to the left of the center of tunnel.

An S-10 T-5 will not fit our adaption methods.

Due to the difference in length of the input shaft you must use a 1993 or older T-5.

1994 and newer T-5 transmissions will NOT work! INPUT SHAFT IS TOO LONG

You must change your clutch disc to 1-1/16" 10 spline.

Y-Block cars had 1" 10 spline or 1" 23 spline clutch discs.

Original pressure plate and throwout bearing can be used.

5.0L pressure plate will NOT fit Y-Block flywheel.

T-5 is shorter than original transmissions. (About 3")

Driveshaft must lengthened.

Driveshaft front yoke must be changed.

This adapter places the rear mount level.

*This kit will also work on some Flat-head Ford V8 bellhousings(49-53), Merc Flat-head V8 (52-53), early F-E (58-64) and Small block Ford bellhousings (62-64).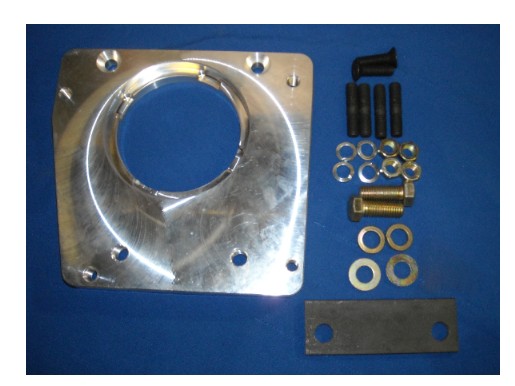 T-5 to Y-Block adapter. Rotates transmission 5° to level rear mount.
Moves shifter closer to original version shown below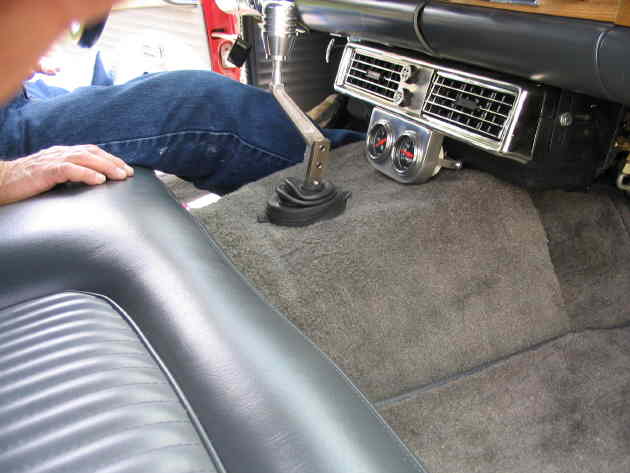 T5 SHIFTER LOCATION IN 1955 T-BIRD. Seat in rear most position.
Early version shown. New design moves shifter closer to driver. Carpet kits available for T-5 installation.