HOME AOD INFORMATION INSTALLATION INSTRUCTIONS PRICE SHEET
MODERNIZE YOUR 50's FORD WITH A LIGHT WEIGHT, EFFICIENT C-4 AUTOMATIC
AVAILABLE FOR 239-256-272-292-312 V8's and 215-223-262 6 CYLINDER ENGINES IN CARS, T-BIRDS or TRUCKS
C4-Y CARS AND THUNDERBIRD
C4-Y-TRK TRUCK SPECIFIC KIT
C4K-223 6-CYLINDER CARS
C4K-223-TRK 6-CYLINDER TRUCKS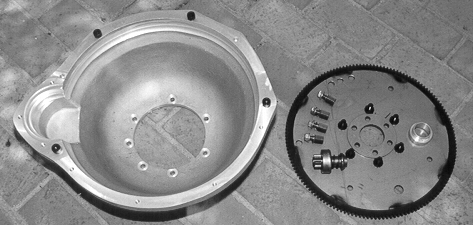 Kit includes:
New aluminum bellhousing, steel flex plate, ARP flex plate bolts, stud extensions, converter hub bushing, mounting bolts, starter drive.
Enjoy full 3 speed operation, improved performance, economy and parts availability.
Kit utilizes later model positive engagement starter (not included) which also allows the use of High Torque aftermarket starters.
Allows use of stall converters available for the C-4.
Vacuum modulator operation simplifies installation.
Any 1964 or later C-4 with dipstick in case will work.
1971 & newer C-4 with dipstick in case recommended due to increased input shaft diameter.
Uses later style Ford starter for the FE series engines (1970 360 truck)
Car & T-Bird Y-Block to C-4 Transmission Adapter Kit
Truck Y-Block to C-4 adapter kit. Bellhousing mounts
ADDITIONAL CHARGE FOR 6-CYLINDER APPLICATIONS
Includes new aluminum bellhousing, flexplate and starter drive.